Paper Talk
Jose Mourinho has confided in close friends it is a 'done deal' that he will take over at Manchester United in the summer.
Chelsea owner Roman Abramovich unsure about Diego Simeone taking charge due to Atletico Madrid boss' style of football.
West Ham have entered contact negotiations with France international Dimitri Payet in a deal worth a massive £125,000-a-week to the midfield star.
Meanwhile, Hammers striker Nikica Jelavic is set to become the latest player to swap the Premier League for football in China.
Laurent Blanc has admitted that Paris Saint-Germain are keeping tabs on former Newcastle midfielder Hatem Ben Arfa who has been in sparkling form for Nice this season.
Eden Hazard is keen to remain at Chelsea should a Real Madrid move prove to be off the cards.
Riyad Mahrez is in line for a new contract in the summer following his huge impact in Leicester's title charge.
Manchester United and Manchester City are going into battle with all guns blazing for Barcelona ace Neymar.
Meanwhile, City are planning a sensational bid to make West Ham forward Dimitri Payet the first signing of the Pep Guardiola era.
Manchester United keeper David de Gea would have had a £400m buyout clause in his contract has he joined Real Madrid last summer.
Juventus boss Massimiliano Allegri has already received a 'fantastic' offer to become Chelsea's next manager.
Remi Garde last night warned Aston Villa owner Randy Lerner: Show me the money this summer or I'm off!
Juventus are reportedly preparing an offer to sign Colombian winger Juan Cuadrado permanently from Stamford Bridge.
Danny Drinkwater is line for a first England call-up for next month's friendly matches against Germany and Holland.
Jose Mourinho has told friends he believes he will be the next Manchester United manager.
Chelsea's Loic Remy is the latest player targeted for a move to the Chinese Super League.
Crystal Palace captain Mile Jedinak is being targeted for a summer switch to China.
Manchester Uniteed left-back Luke Shaw is running out of time to be fit for this summer's Euros.
Everton and Aston Villa are battling it out to sign 19-year-old Leeds keeper Bailey Peacock-Farrell who is out of contract.
Former Blackburn boss Gary Bowyer is on Rotherham's shortlist to be their new boss, while Paolo Di Canio has already
applied for the role.
The Premier League has pledged to help fans meet the soaring cost of watching their heroes amid growing calls for a fairer deal.
Jose Mourinho has told friends that the Manchester United job is a "done deal" with the Portuguese set to take over in the summer.
Raphael Varane is on Manchester United's summer transfer shortlist along with Everton's John Stones and Athletic Bilbao's Aymeric Laporte.
Jose Mourinho has told friends he is confident he has landed the Manchester United job.
England defender John Stones could be back for Everton against West Brom this weekend after missing the last three games with a hamstring injury.
Ipswich want to sign out-of-favour Fulham midfielder Ben Pringle, 28, on loan.
Brendan Rodgers has claimed he has had five opportunities to return to football management since leaving Liverpool.
Chelsea could opt to recall teenage defender Andreas Christensen, from his two-year loan spell at German side Borussia Monchengladbach rather than keep John Terry.
Barcelona midfielder Sergio Busquets, 27, would be 'honoured' to play under former Nou Camp coach Pep Guardiola once more.
Championship side Derby County could turn to Birmingham City boss Gary Rowett in the summer after sacking Paul Clement.
Ed Woodward could face a grilling from investors about the financial impact on Manchester United should the club fail to qualify for the Champions League when the executive vice-chairman holds a conference call on Thursday.
Former Sunderland manager Paolo di Canio, 47, has made a second attempt to become Rotherham boss after also applying for the job back in September.
West Ham have confirmed they have opened talks with Dimitri Payet over a contract extension and denied reports that the player's agent is demanding improved terms of £125,000 a week.
England midfielder Michael Carrick, 34, has been left in the dark regrading his future at Manchester United with just four months of his current contract left.
Lee McCulloch has been primed to take charge of Kilmarnock for Saturday's relegation crunch against Motherwell.
BBC
Former Chelsea boss Jose Mourinho, 53, has told friends he is confident he will be the next Manchester United manager, with at least one high-profile football figure describing it privately as a "done deal". (Daily Star)
Mourinho is convinced the job will be his, if the Old Trafford club sack Dutchman Louis van Gaal at the end of the season. (Telegraph)
Juventus coach Massimiliano Allegri, 48, will take up Chelsea's offer to become their new manager in the summer, according to his former boss Giovanni Galeone. (Radio Radio, via Sun)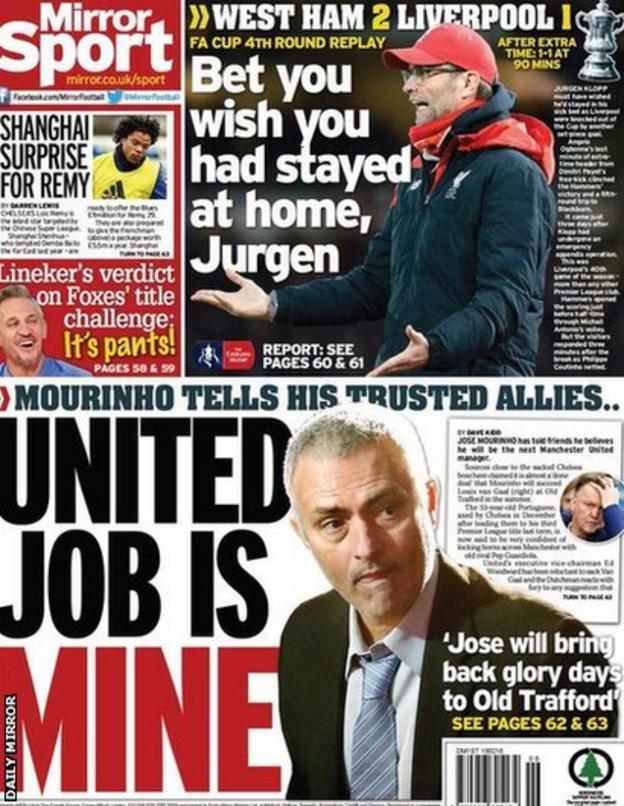 But former AC Milan and Cagliari boss Allegri has said "there's nothing to" the rumours. (Sky Italia)
Manchester City and Manchester United are ready to fight it out to sign Barcelona's 24-year-old Brazil forward Neymar. (Sun)
Leicester City are ready to offer forward Riyad Mahrez, 24, an improvement to his current £35,000-a-month contract. (Daily Mail)
Barcelona midfielder Sergio Busquets, 27, says Pep Guardiola - who will become Manchester City manager in the summer - is one of only two people who could convince him to leave the Nou Camp. (ESPN)
Manchester City want to make West Ham midfielder Dimitri Payet the first signing of Guardiola's tenure and are preparing a £30m bid for the 28-year-old. (Sun)
The Hammers have opened contract talks with Payet but have denied reports the player's agent is demanding £125,000 a week for his client. (Times - subscription required)
Listen: China 'a very obvious threat' to Payet future
Chelsea striker Loic Remy, 29, could be the latest player to move to the Chinese Super League with Shanghai Shenhua ready to make an £11m offer for the Frenchman.(Mirror)
Barcelona defender Dani Alves, 32, has been offered a three-year, £9.2m-a-season deal by an unnamed club to become the latest high-profile player to move to the Chinese Super League. (Mundo Deportivo - in Spanish)
Real Madrid are keen to sign Chelsea winger Eden Hazard, 25, before Euro 2016 begins in the summer. (El Chiringuito - in Spanish)
Goalkeeper David de Gea, 25, was set to earn £9.2m a year until 2021 had he joined Real Madrid from Manchester United last summer. (Football Leaks)
Barcelona, Bayern Munich and Manchester City all want 22-year-old striker Paulo Dybala, who only joined Juventus in the summer from Palermo in a deal that could eventually be worth £30m.(Talksport)
Manchester United are considering a move for Athletic Bilbao defender Aymeric Laporte, 21, as they begin to plan for next season. (Manchester Evening News)
Chelsea could opt to recall defender Andreas Christensen, 19, from his two-year loan spell at Borussia Monchengladbach rather than keep 35-year-old John Terry. (Telegraph)
West Ham striker Nikica Jelavic, 30, is on the verge of joining Chinese second division side Beijing Renhe in a £4m deal. (Daily Mail)
Crystal Palace captain Mile Jedinak, 31, is also being lined up for a summer move to China. The Australia international would not count as a foreign player under league rules. (Daily Mirror)
Robert Lewandowski will not be leaving Bayern Munich this summer, according to the 27-year-old Poland striker's agent Cezary Kucharski. (PolsatSport - in Polish)
Goalkeeper Victor Valdes, 34, says he feared for his life after boss Louis van Gaal made him train alone during the last few months of his time at Manchester United before a move to Standard Liege. (El Pais - in Spanish)
Manager Laurent Blanc says Paris St-Germain are monitoring former Newcastle midfielder Hatem Ben Arfa, 28, who has scored 11 goals in 24 Ligue 1 appearances for Nice this season. (Daily Mail)
Former Sunderland manager Paolo di Canio, 47, has made a second attempt to become Rotherham boss, following the sacking of Neil Redfearn. The Italian also wanted the job at the New York Stadium in September after Steve Evans left. (Guardian)
Sir Alex Ferguson believes Tottenham boss Mauricio Pochettino is the best manager in England, according to the Labour MP for Tottenham David Lammy. (Times - subscription required)
And finally
An accident-prone cow named after Liverpool manager Jurgen Klopp is being sold at Hereford cattle market to raise money for the St Michael's Hospice in nearby Bartestree. The animal's owner, Tom Pearson, says he named him after the German because "he seemed to be having more mishaps than the Liverpool defence and with a similar expression as Jurgen Klopp reacting to his team letting in a last-minute goal at Anfield". (Western Daily Press)
Guardian Rumour Mill
Paul Doyle
If everyone in the world said "Pep Guardiola" at exactly the same time, it would create a shout so loud that it would reverberate around the universe and give Tim Peake a splitting headache. And be warned, brave Tim, that if things carry on at their present rate we are due to reach that point in approximately 2.85 days. Everywhere the Mill turns, it's Pep this, Pep that, Pep non, Pep si, as folks run through every player on the planet and wonder whether he will be invited to join the Manchester City revolution this summer. The top target today is said to be Neymar, a Brazilian forward that no manager other than the canny Guardiola would have thought about signing.
Manchester United are reportedly going to try to wade into the bidding for Neymar just to show City that they mean to be naughty neighbours. That's how José Mourinho rolls and, according to several outlets, Mourinho is almost certain to be the next United manager and has told "close friends" that it is so – and at least one of those close friends appears to have told various newspapers. If all this is true, then Louis van Gaal must be not quite close enough as a friend to have been let into the big secret.
City also want to lure right-back Serge Aurier from Paris Saint-Germain, but so do Barcelona, who are looking for a replacement for Dani Alves, who is set to become the latest ageing star to embrace a fascinating sporting project in China. Sergio Busquets could also be City-bound, as the midfielder confided in the mass media that he would do almost anything for Guardiola – even move from Barcelona to Manchester. City also hope to offer Guardiola one of the revelations of this season's Premier League, Dmitri Payet, and are prepared to offer West Ham up to £30m plus not one but two fingers.
And there's more. Guardiola will further demonstrate his ability to out-think opponents by getting City to outbid Barcelona and Bayern Munich for the Juventus striker Paul Dybala.
Chelsea's new manager will be the current Juventus supremo Massimiliano Allegri, reportedly. He will have to cope without Loïc Rémy, who, like Alves, feels a sudden yearning to explore China's rich cultural heritage. Eden Hazard, meanwhile, is feeling that same old yearning for Real Madrid.
Riyad Mahrez is going nowhere, at least not if Leicester City can help it. They're planning to offer the Algerian an improvement on his current deal, which is reportedly worth £35,000-per-month. Poor old Mahrez doesn't even get his wages quoted on a per-week basis. The man definitely needs a new deal.
Manchester United will open the door to Athletic Bilbao defender Aymeric Laporte, while Crystal Palace will show the door to Mile Jedinak, who feels a sudden yearning to – guess what – explore Chinese culture. As does West Ham's Nikica Jelavic.
At this point the Mill would like to point out that what Chinese football is missing most at the moment is a lavishly well paid rumour monger, an ageing one that is currently based in Europe and visibly on its last legs. Ahem.
And now to finish with a flourish: Robert Lewandowski will not be leaving Bayern Munich this summer.
Mail
West Ham 2-1 Liverpool (AET): Angelo Ogbonna wins the game in last minute of extra time as Jurgen Klopp's side crash out of Cup
Michail Antonio steers West Ham ahead on the stroke of half time with a controlled volley
Joey O'Brien, Philippe Coutinho and Dimitri Payet had all struck the post earlier in the first half
Coutinho equalises just three minutes after the break, slipping a free kick under the West Ham wall
Darren Randolph makes brilliant saves to deny Christian Benteke, particularly one in extra-time
Angelo Ogbonna heads past Simon Mignolet to win the game in final seconds
West Ham will meet Blackburn in the fifth round of the FA Cup at Ewood Park
By Martin Samuel for the Daily Mail
This time there was no Steven Gerrard to drag them back from the brink. Liverpool's young ones fought almost to the last kick, to additional time of additional time, but it was too much for them in the end. West Ham won, with a header from Angelo Ogbonna in the 121st minute. Hardly revenge for that 2006 FA Cup final defeat, but the dream continues.
Had West Ham lost, this would have been the last FA Cup tie at Upton Park, which shuts its doors for eternity at the end of this season. Now there is a last-16 visit to Blackburn to look forward to and after that, if they win, who knows?
This is a campaign that West Ham will want to end in style — much as they ended this match.
Michail Antonio volleys West Ham ahead moments before half time, steering Antonio Valencia's deflected cross into the far corner
Philippe Coutinho equalised for Liverpool soon after the break, firing a clever free kick under the West Ham wall as they all jumped
Angelo Ogbonna gets up highest to meet Dimitri Payet's late free kick and send West Ham into the last 16 of the FA Cup
Ogbonna wheels away after heading West Ham's winner past Simon Mignolet in the last minute of extra time
It was a magnificent effort from Slaven Bilic's side, despite the weakened nature of Liverpool's starting line-up. In the second half West Ham lost Winston Reid to what appeared to be a hamstring injury, Cheikhou Kouyate to a clash of heads, plus Joey O'Brien. Andy Carroll and Enner Valencia both suffered injury scares after that as West Ham were hobbling towards the finishing line.
It was the perfect moment, then, for the unusually quiet Dimitri Payet to play his best pass of the night, an inswinging free kick from the right. He placed it perfectly on Ogbonna's head and the ball nestled in the far corner of the net, Simon Mignolet beaten. Liverpool looked shattered. They had fought for this, played their part in a magnificent cup tie, but it was not to be.
Payet is already in contract negotiations midway through his first season at West Ham. There is talk of a £38million offer from China, of exorbitant salary demands, too. This was a reminder of what he can bring, the pure quality he can deliver to a club with big ambitions. There is a lot of money in the Chinese market; but where would West Ham find another like him?
The same could be said of Philippe Coutinho and Liverpool. Without doubt their momentum dipped when he was withdrawn for Daniel Sturridge in the 59th minute.
Sturridge, returning from injury, was ineffective — Coutinho had already conjured up the moment of the night.
It is a historic final season at this stadium and the goal that took the match into extra time was at least memorable — albeit for the wrong side. Coutinho scored with the free-kick equivalent of the Panenka penalty. The attempt to fool all of the people, all of the time. Hit it low, hit it soft, and wait for those dolts in the wall to jump right over it.
Aaron Cresswell clears the ball under pressure form Jordon Ibe, as West Ham looked to ensure it wasn't their last cup game at Upton Park
Jurgen Klopp, who missed his club's last game to have emergency surgery, was back on the Liverpool bench for the FA Cup replay
Pedro Obiang plays the ball away from Joao Teixeira, one of a number of young players in an experienced Liverpool line-up
Christian Benteke had Liverpool's best chances of the first half, twice denied from corners by West Ham keeper Darren Randolph
Joey O'Brien was the first of three men to hit the wood-work in the first half, as his shot from the edge of the box, via a Lucas deflection
Ibe looks to get away from Obiang, as Liverpool showed flashes of promise without being able to take their chances early on
Mignolet dives full length to try and keep out a Payet free kick, but he was lucky, having missed it, to see the ball come back off the post
Randolph makes another excellent save to deny Benteke, this time from a close-range header once the Belgian had lost his marker
Antonio celebrates with Enner Valencia, Cheikhou Kourate and Pedro Obiang after breaking the deadlock on the stroke of half time
Teixeira looks to break away from Winston Reid as the two sides competed for the chance to go to Blackburn in the fifth round
Whether Coutinho's team-mates thanked him for another 30 minutes at the coalface in an already exhausting season is another matter; this was Liverpool's 40th match of the campaign.
The equaliser came three minutes into the second half but the sheer cheek of it was arguably the highlight of the two hours. It takes guts to take a free-kick that way.
Fail and the kicker looks ridiculous. Instead, Coutinho made mugs of half the West Ham team.
Christian Benteke was bundled over on the edge of the area. Coutinho stood over the ball, the wall jumped to repel a dipper or a curler and instead missed a bobbler.
The culprits? Choose from Reid, Ogbonna, Kouyate and O'Brien. All jumped higher than is sensible, some turned their backs, too. Darren Randolph, in West Ham's goal, was unsighted and didn't even dive, having left that side of the goal to his team-mates.
All things considered, a draw after 120 minutes would probably have been the fair result. Liverpool had the best of the chances in extra-time and the first-half of 90 minutes, West Ham were better in the second half — including a clear penalty denied.
Michail Antonio hit an excellent cross from the right which would surely have found Enner Valencia in front of goal had he not been dragged down by Liverpool defender Tiago Ilori. Inexplicably, referee Roger East waved West Ham's appeals away.
There will be those who question Jurgen Klopp's selection for this match, even accuse him of disrespecting the FA Cup.
He did nothing of the sort. For a start, a man standing on the touchline roughly three days after an appendix operation is hardly treating the competition with contempt.
Klopp was supposed to stay seated throughout, but could not resist the odd march into the technical area to bark an instruction.
His team, too, was not what it seemed on paper. There may have been few first-team regulars — and one of them, Lucas Leiva, was played out of position at centre half — but a shake-up is long overdue at Liverpool and who knows where some of these new names will be when it is completed.
Brad Smith, certainly, has to be a contender in the left full back position next season, if only for his attacking qualities. Yes, he sometimes shows the defensive naivety of youth — illustrated by his marking for the opening West Ham goal — but by then he could have put Liverpool clear had his team-mates been alive to his forward runs.
It was Smith whose cross was missed by Benteke and Jordon Ibe in good positions in the 26th minute and Smith whose shot was deflected out to Joao Teixeira eight minutes later, the Portuguese midfielder striking a low shot wide of Darren Randolph's near post.
Reversing the usual narrative, Liverpool were dangerous from corners, too — with the reintroduction of Coutinho and Benteke as his target making an immediate difference.
In the 14th minute, a Coutinho corner from the left picked out Benteke, forcing a goalmouth scramble and another corner. Coutinho took it, found Benteke once more and this time Randolph was forced to save.
Then, in the 34th minute, Benteke turned provider, pulling the ball back for Coutinho to strike a low shot against the near post. The ball rebounded only for Kevin Stewart's shot to be deflected wide. From the corner, Coutinho took a familiar route, straight onto Benteke's head at the far post — Randolph equal to it again.
What West Ham lacked in quantity of chances, however, they made up in quality. They didn't do much, but every time they got around Liverpool's goal, they looked capable of scoring.
To their credit, despite the injury setbacks, West Ham kept pushing. Antonio had a lobbed cross that required Mignolet's full attention, Mark Noble a snap shot well saved. Mignolet got himself into a terrible tangle coming out for another clear-up operation and there were appeals for a penalty this time, too. It was unconvincing, though.
Mignolet punches the ball away as neither side were able to find a way through without an extra half hour in the fourth round replay
Substitute Divock Origi goes down under pressure from Angelo Ogbonna as the two sides pushed for an extra-time winner
Slaven Bilic urges on his team before extra-time, as West Ham continued to hold on in a cup tie that had incident, but lacked quality
Randolph makes another important save to keep his side level, as he continued his superb performance into the extra 30 minutes
In the 16th minute, O'Brien struck a fierce shot on the right, the merest touch from Lucas diverting it onto a post.
Then, seven minutes before half time, Payet took a free-kick from range which curled out of reach of the wall and towards Mignolet's left post, only for the goalkeeper to divert it onto the woodwork.
The ball came out for Antonio to head powerfully towards goal, but Mignolet recovered to save again.
He had no chance with West Ham's opener, though, which came from the final attack of the first-half. Valencia found room on the left and crossed, and Antonio took advantage of Smith's dawdling to volley the ball into the net at the far post.
Liverpool shaded extra time and Benteke had two good chances to end the contest. He screwed a fine shooting opportunity wide, then lost out to Randolph when through one on one.
For £32m he is expected to decide games like this. That fee makes Payet look very cheap indeed.
Andy Carroll caused problems when he came off the bench, particularly for Liverpool keeper Mignolet, who struggled in the air
MATCH FACTS
West Ham: Randolph 7, O'Brien 6.5 (Moses 83 mins), Reid 6.5 (Collins 65), Ogbonna 6, Cresswell 7, Kouyate 6 (Carroll 75, 6), Noble 6, Obiang 6, Antonio 7, Valencia 7, Payet 6.5
Subs: Adrian, Oxford, Cullen, Parfitt-Williams
Booked: Antonio
Goal: Antonio 45, Ogbonna 120
Liverpool: Mignolet 7.5, Flanagan 6, Stewart 6, Tiago Ilori 6, Smith 6.5, Teixeira 5 (Origi 59 6), Lucas 7, Chirivella 5.5 (Milner 101), Ibe 5.5, Benteke 6, Coutinho 6.5 (Sturridge 59 6)
Subs not used: Jose Enrique, Henderson, Ward, Randall
Booked: Stewart
Goal: Coutinho 48
Referee: Roger East 5
Attendance: 34,433
Man of the match: Simon Mignolet
Guardian
Liverpool's Jürgen Klopp complains about referee in Cup defeat to West Ham
• Klopp says free-kick leading to decisive goal should not have been given
• Slaven Bilic also criticises referee Roger East
James Riach
Jürgen Klopp rued the awarding of a late free-kick which resulted in West Ham scoring the dramatic extra-time winner to knock Liverpool out of the FA Cup.
Liverpool had fought their way back into a pulsating fourth-round tie but were undone in the dying seconds by Angelo Ogbonna's header, when a penalty shootout was just moments away. Klopp, returning to the touchline having missed the Sunderland defeat at the weekend after appendix surgery, praised his team's performance but was visibly frustrated in defeat.
Slaven Bilic, the West Ham manager, also questioned a number of decisions made by the referee, Roger East, on a night that could have seen the last FA Cup tie ever played at the Upton Park. West Ham travel to Ewood Park to play Blackburn in the fifth round on 21 February.
Ogbonna rose to head in Dimitri Payet's cross in the first minute of injury time in extra time, but Klopp did not believe the incident involving Lucas Leiva in the build-up warranted a free-kick. "They got a free-kick without a foul and we conceded a goal," said Klopp.
"I'm not long enough here to judge these things. If you are satisfied with the performance of the referee, write it. If not, say it. There were a lot of situations that, on a better day, I would say are funny decisions. I would have made a few different decisions, on both sides. The only reason we were here was to go to the next round, so we are disappointed.
"Liverpool in this moment is not the most sunny. 2-0 in the lead [against Sunderland], manager in hospital, out of the FA Cup, but tomorrow when we get up the sun will shine. If we want, all together, we can take a lot of positive things out of this game."
West Ham had taken the lead through Michail Antonio's excellent volley at the end of the first half but a clever free-kick from Philippe Coutinho on his return from a long-term injury brought Liverpool level soon after half-time. Daniel Sturridge also returned from injury' while Christian Benteke missed a number of chances to win the match late on.
Bilic described the victory as a special night for West Ham before going on to add: "Tonight there were many fouls that in my opinion weren't fouls.
"Of course, when you win you don't mind it. There were many, many decisions where, OK, I can't be objective, but I wasn't happy.
"His [Ogbonna's] goal is a great header, but it was not just about the goal. He was magnificent. Everyone was great in our team. Some of the players played not in their primary positions, like Michail Antonio who did a brilliant job. We didn't have a weak link in our team."
Telegraph
Angelo Ogbonna heads late winner to end Jurgen Klopp's FA Cup dream
By Sam Wallace, Chief Football Writer, at Upton Park
The mood was already turning to penalties, and that particular human drama, when 211 minutes of FA Cup football over the space of two ties was decided in an instant by an Angelo Ogbonna goal, and the kind of moment that supporters remember for the rest of their lives.
One more chapter in the old Boleyn Ground's history and perhaps even one more FA Cup tie at the stadium before the move in the summer, if West Ham can overcome Blackburn Rovers in the fifth round this month at Ewood Park. The home side were not always the best team, even against an under-strength Liverpool XI, but they prevailed in the end which is all that matters in the Cup.
Afterwards, Bilic suggested that it was one of the "greatest nights" in the stadium's history, a bold claim, but understandable given the emotion of beating Liverpool in the last season before the club moves to Stratford. His team had a very good penalty appeal turned down in the second half, and they lost four players to injury – Winston Reid, Cheikhou Kouyate, Joey O'Brien and Enner Valencia, the latter of whom just had to stay on the pitch.
Jurgen Klopp did not agree with much that referee Roger East decided on the night, even down to the Lucas Leiva push that led to the decisive free-kick with injury-time already being played at the end of the second period of extra-time. Dimitri Payet, relatively quiet on the night, sent one more good ball towards the far post and Ogbonna, the Italy international, planted his header well beyond Simon Mignolet.
It saved West Ham from penalties and it denied Christian Benteke the chance to redeem himself. With Daniel Sturridge back on the pitch as a second-half substitute – his first football since Dec 16 – Liverpool's Belgian striker contrived to miss from just about every angle conceivable. When he was unmarked in the box, he struck it wide; clean through on goal and he fluffed his lines. "All strikers have these times," bemoaned Klopp, but he cannot afford for his £32 million man to have too many.
The return of Sturridge was the best news of the night for Liverpool, but so too the performance of a team of rookies and irregulars against a strong West Ham side. There were times, especially at the start of the second half, when you thought Liverpool might just win it and there were good performances from the likes of Jon Flanagan and Brad Smith, although perhaps the lack of experience told in the end.
Bilic said afterwards that West Ham will do everything in their power to keep Payet, who is negotiating a new deal and will surely be of interest to wealthier clubs come the summer. Certainly the free-kick for Ogbonna's goal showed that Payet can deliver in the critical moments of big games.
It was a splendid night of FA Cup football and if the tie away to Blackburn Rovers is not one that either manager particularly needed in a hectic schedule – certainly not Klopp's Capital One Cup finalists – these two sides fought each other long into the February night for the right to that trip to Ewood Park.
Klopp opted for his traditional FA Cup combination of an inexperienced defence and midfield, building up towards a much more seasoned attacked that included Philippe Coutinho, Benteke and Jordon Ibe. There were 10 changes from the side that drew 2-2 with Sunderland on Saturday, with only Mignolet retained.
He was more reliable in the first half and may even have got the slightest of glove-brushes on Payet's swerving free-kick on 38 minutes that struck the post. Whether he did or not, he was back on his feet within a moment to push away the follow-up header from Michail Antonio.
West Ham had hit the post in the 16th minute when O'Brien found himself in unfamiliar territory in the Liverpool area and struck a heavily deflected shot that hit Mignolet's post. Liverpool came closest before the break when Reid gave the ball away and Benteke and Coutinho combined, only for the latter to strike the post with his shot.
Mignolet had just kept out Antonio's follow-up effort from Payet's free-kick when the 25-year-old Englishman finished powerfully from Valencia's cross for the game's first goal. Liverpool were back in it within three minutes of the second half after Benteke tried to force his way through a group of West Ham shirts on the edge of the area and Kouyate brought him down.
The free-kick looked inviting even before referee East insisted the wall stand so far back their presence was virtually immaterial – but then they jumped in anticipation and that was where it all went wrong for West Ham. Coutinho's shot ran under West Ham's wall and found the corner of the net that Randolph could not reach. It was an embarrassment for Bilic and his players and they seemed to feel that as Liverpool started to exert themselves.
West Ham should have had a penalty on 66 minutes when Thiago Ilori pulled down Valencia as he ran onto a cross. By the end of the 90 minutes – with eight added on for the treatment to Kouyate – it had turned into the reckless kind of FA Cup tie in which risks were being taken.
In the first period of extra-time the home side were the more promising in the opening stages but still could not produce a blow to put Liverpool away. They had Antonio at right-back, and limping, and Mark Noble shielding the back four. He had space for a shot seven minutes in and Mignolet saved well.
Liverpool had the best chances and it was Benteke who missed them. The first came from a header upwards by Sturridge that dropped just perfectly for the Belgian and he missed the goal altogether with his right-foot shot. Perhaps that was playing on his mind less than a minute later when he went through on goal and could not get the ball past Randolph, who had done well to get out quickly. Then Payet was given his chance to deliver from the right, and Ogbonna did the rest.
Telegraph
How did West Ham knock Liverpool out of the FA Cup - and how did Daniel Sturridge do on his return to action?
By Jonathan Liew, Upton Park
What was the key to the result?
In a word: chances. West Ham had a number of half-chances and a couple of goalmouth scrambles, but the two big opportunities that came their way – Michail Antonio's well-taken volley and Angelo Ogbonna later header – they took.
Liverpool had a number of very decent openings, but only Philippe Coutinho's cheeky free-kick under the wall registered. Christian Benteke was particularly guilty, twice missing with free headers at the far post and squandering a couple decent chances, and you wonder whether, if he had taken one of them, Liverpool might have avoided extra time.
Another word? Aspiration. West Ham named the stronger line-up, in fact something approaching their strongest. Liverpool took the opportunity to blood the youngsters, giving some idea of where this competition stands in their list of priorities. They took off Coutinho just as he was beginning to get a grip on the game. Overall, you just sensed West Ham wanted it a fraction more, and in a tight game, that matters.
How did Daniel Sturridge do?
Yes: shortly before the hour English football's most gifted, pain-averse talent finally appeared on a football pitch, an occurrence so rare it brought local residents to their windows to see what all the fuss was about. And for a man without a full 90 minutes in his legs since October, Sturridge actually looked a good deal better than you might expect.
There was one delicious nutmeg that served as a glorious reminder that when Sturridge is on form, he has the skills not only to pay the bills, but to make a sizeable down payment on the next instalment too.
Who was the man of the match?
Enner Valencia. May not have made his mark in terms of shots or goals, but a total and utter nuisance to Liverpool's back four. His pressing of Liverpool's full-backs, in particular, was as good as ever, and he forced plenty of rushed clearances. Harshly denied a penalty in the second half.
What was the reaction?
"It's a classic FA Cup tie, whether it's only for last 16 but it's against Liverpool. The players left their hearts on the pitch and I'm very, very proud of the boys."
Slaven Bilic, West Ham United
"It's hard, hard in this moment. we were the better team, we created some really good chances, we didn't use them. It's not the easiest season for LFC. It's always hard work. Every chance is hard work. Maybe it's the history of Liverpool, how everything started."
Jürgen Klopp, Liverpool manager
Mail
West Ham striker Nikica Jelavic closes in on £4m move to Beijing Renhe as Croatian joins rush to China
Nikica Jelavic is poised to complete £4m move to Beijing Renhe
West Ham striker on verge of signing for Chinese second division side
Jelavic only joined the Hammers from Hull City last summer
By Simon Jones for MailOnline
Nikica Jelavic is set to become the latest to swap the Premier League for football in China.
The West Ham striker is on the verge of joining Chinese second division side Beijing Renhe in a £4million deal.
The Croatian, who only joined the Hammers from Hull City at the start of the season, is set to travel to the Chinese capital to complete formalities on his move this week.
The cash-rich Chinese Super League have captured headlines recently with a number of big-money transfer coups and the window there remains open until February 26.
Jelavic, 30, has scored two goals in 14 appearances for West Ham this season but has not been a regular starter.
Beijing Renhe finished 15th in the Chinese Super League last year and were relegated to the China League One, the second tier.
It comes as Jelavic's team-mate Dimitri Payet is linked with a £40m switch to China.
In surprise moves, Jackson Martinez moved from Atletico Madrid to Guangzhou Evergrande last week for £31m, while Chelsea midfielder Ramires has joined Jiangsu Suning for £25m.
Express
Tottenham and West Ham eye cut-price swoop for Barcelona ace
TOTTENHAM and West Ham are both reportedly keeping tabs on defender Marc Bartra, who could leave Barcelona this summer.
By Joe Short
Bartra, 25, has made 18 appearances for Barca this season.
However, just eight of those have been starts - his last one coming in a Champions League dead rubber at Bayer Leverkusen in December.
And Spanish newspaper Mundo Deportivo claim the Spain centre-back is considering his options after failing to nail down a regular place in the Barca backline.
Website London 24 claim that Spurs are keen to sign Bartra - although they face competition from West Ham over a summer move.
It is added that the London duo have both considered moves in the past and that they could well go in again for the defender at the end of the season.
And Barca are said to be willing to accept significantly lower than his £19.5million valuation as they seek alternative defenders themselves.
Bartra has played twice for Spain this term and is in line to make the national squad for Euro 2016.
An offer is therefore unlikely to come until after the tournament in France.