BBC
Liverpool forward Mohamed Salah says he will not be leaving Anfield this summer. The Egyptian, 25, had been linked with a move to Real Madrid. (Mirror)
Former England striker Wayne Rooney's move to MLS side DC United from Everton is "50-50". (Washington Post)
Rooney, 32, will snub the move to the United States if manager Sam Allardyce leaves the Toffees. (Mirror)
Ivory Coast midfielder Yaya Toure, 34, will turn down lucrative offers from China and the Middle East to continue playing for less money in the Premier League when he leaves Manchester City this summer. (Mail)
Manchester City are leading the chase for Napoli midfielder Jorginho. The 26-year-old Italy international is also a target for the Premier League's other top six sides. (Times - subscription required)
Everton are lining up a £25m move for Newcastle's English defender and captain Jamaal Lascelles, 24. (Mirror)
Atletico Madrid want to re-sign former striker Sergio Aguero from Manchester City. The 29-year-old Argentine left Madrid in 2011. (Mail)
England manager Gareth Southgate is weighing up whether to include 19-year-old Liverpool defender Trent Alexander-Arnold and Fulham winger Ryan Sessegnon, 17, in his provisional 35-man World Cup squad. (Telegraph)
Juventus are set to offer Chelsea £15m to take Spanish striker Alvaro Morata, 25, on loan. (Express)
Liverpool are targeting Bordeaux's Brazilian winger Malcom, 21. (Mail)
Newly promoted Wolves have made AC Milan's Portuguese striker Andre Silva their main summer target. The 22-year-old is said to be worth £33m. (Sun)
Wolves are also considering a £30m bid for Sporting goalkeeper Rui Patricio, 30, with the Portugal international also wanted by Napoli. (Diario de Noticias, via Birmingham Mail)
Sevilla are keen on former Manchester City boss Manuel Pellegrini. (Marca)
Swansea are likely to appoint a younger manager to replace Carlos Carvalhal, in the mould of previous managers Brendan Rodgers and Roberto Martinez. (Telegraph)
Burnley's Martin Hodge has been tipped to succeed Tony Henry as West Ham's head of recruitment. (Mail)
Brighton goalkeeper Tim Krul is set for talks about his future with the Seagulls. The 30-year-old Dutchman is out of contract next month. (Argus)
Cardiff look likely to sign Newcastle's England youth goalkeeper Paul Woolston after the 19-year-old impressed while on trial. Woolston will be released by the Magpies this summer. (Sun)
Bournemouth striker Jermain Defoe has revealed he and England team-mate Wayne Rooney were so bored during downtime at the 2010 World Cup that they watched Rooney's wedding DVD. (ESPN)
Manchester City and Germany winger Leroy Sane's dance moves at their title-winning party worried manager Pep Guardiola, who said he was "scared" of the 22-year-old's level. (Manchester Evening News)
City goalkeeper Ederson has earned a Guinness world record for the longest drop-kick in football with an effort of 75.35m. (FourFourTwo)
Retiring Manchester United midfielder Michael Carrick says former boss Sir Alex Ferguson would only play him if it was raining. (ESPN)
Guardian Rumour Mill
Paul Doyle
The word from Barcelona is that the club will make space for Antoine Griezmann this summer by selling Luis Suárez. Brendan Rodgers and Steven Gerrard are believed to be preparing their pitches right now, each texting the Uruguayan striker photos of their Luis Suárez tattoos and promising him that he won't miss the Barcelona-Real Madrid derbies once he experiences the joys of El Glasigo. Sadly, Suárez in an Old Firm clash is a treat we are never likely to witness because Paris Saint-German can offer both him and Barça more lolly. But that doesn't mean Rodgers and Gerrard can't keep arguing over who Suárez loves most.
Celtic left-back Kieran Tierney is enjoying that spectacle so much that he is said to have no interest in leaving for Bournemouth, who will put that theory to the test by submitting a £20m offer.
Meanwhile, if Suárez does move to Paris, then he could hook up with his compatriot Edinson Cavani, who insists he is staying in the French capital despite claims he was intent on leaving this summer for Chelsea or anywhere else. "My future is here, of course," said Cavani, fuelling speculation that Neymar is off to Real Madrid.
Atlético Madrid, meanwhile, are focusing on luring Sergio Agüero back from Manchester City. And City sense they are close to striking a deal for Napoli's Jorginho. By contrast, and contrary to reports this week in France, Nabil Fekir's father has said no deal has been done between his son and Liverpool. Other reports in France, meanwhile, claim Liverpool have their hearts set on Bordeaux's Brazilian forward Malcom, who is also being wooed by Manchester United and Tottenham.
Juventus want to take Álvaro Morata away from Chelsea on a season-long loan. Everton are planning to rejuvenate their defence by prising Jamaal Lascelles away from Newcastle, a move that could push Rafael Benítez to the end of his tether.
Having seen the state of the Premier League, Wolves are preparing for a European campaign in 2019-20. They plan to bolster their squad by bringing in striker André Silva from Milan and the goalkeeper Rui Patricio from Sporting Lisbon and are willing to outbid Napoli for the latter. If they fail in that they may move for PSG goalkeeper Kevin Trapp.
Hurrahs in Italy suggest that Internazionale have beaten Liverpool, Spurs and everyone else to the signature of Stefan de Vrij, the centre-back whose contract with Lazio expires in a month.
Gareth Southgate is planning to include two uncapped youngsters in his England World Cup squad: Liverpool's Trent Alexander-Arnold and Dortmund's 18-year-old winger Jadon Sancho.
Finally, Fulham, Aston Villa and Sheffield Wednesday all hope to find the sweet spot of Sunderland's George Honeyman.
Guardian
Tempers flare as Manchester United seal second with draw at West Ham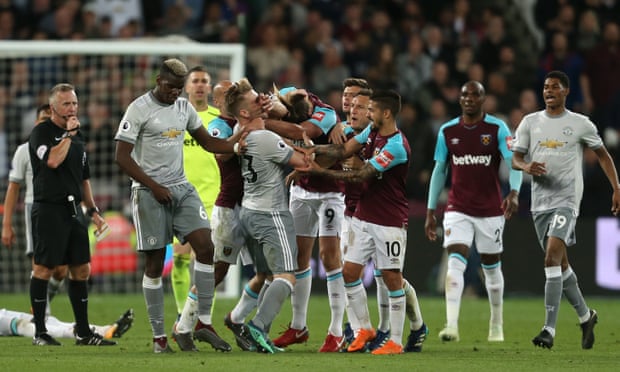 Tempers flare between West Ham's Andy Carroll (centre) and Luke Shaw of United after an incident between Paul Pogba and Mark Noble in the stalemate at the London Stadium. Photograph: Rob Newell/CameraSport via Getty Images
Jacob Steinberg at the London Stadium
Manchester United must know that it is a possibility that they will spend another season in the shadow of their formidable neighbours. The most famous club in England are 19 points behind Manchester City with one game remaining and while this forgettable draw secured second place for José Mourinho's spluttering team, that will not be cause for celebration when they consider the ease with which Pep Guardiola's record-breaking champions have cantered into the distance.
The gap is vast and United will struggle to cut it as long as they continue to toil against opponents as limited as West Ham. Mourinho argued that a point was a respectable reward but United's fans, who spent much of the second half bellowing their support for the hospitalised Sir Alex Ferguson on a drab night, must be concerned at their team's negative approach.
Forget about the late flare-up between Paul Pogba and Mark Noble. That was a sideshow. The real intrigue was that when Mourinho turned to his bench as this dire game neared its conclusion, he did not consider the merits of Anthony Martial. Instead he opted for caution, turning to Eric Bailly and Ashley Young to see United over the line, and Martial stayed in his seat, yawning along with the rest of us.
"When the game goes to minute 70 or 75, you don't win, you don't lose," Mourinho said. "We deserved the point and second position. When you are not ready to be champion, second position is the best available."
It might seem harsh to be critical given that United got the job done, assuming their task was to participate in a grim slog. Yet it is hard to shake off the impression Mourinho is managing expectations in an effort to make it seem that he cannot be blamed for his team's failure to compete with City.
He had glowered more than usual before this game and his observation that some of the players at his disposal are not good enough to challenge Guardiola's side did not seem like a classic motivational ploy.
United, who made eight changes after their defeat at Brighton, rarely suggested that they were going to respond to their manager's curious form of tough love. They needed time to adjust to an unfamiliar 3-4-1-2 system and although they looked solid in the central areas, it must have alarmed Mourinho when Chris Smalling's failure to deal with Aaron Cresswell's cross almost allowed Marko Arnautovic to give West Ham an early lead.
Arnautovic turned an awkward header over, however, and United started to threaten sporadically. Pogba had the freedom to roam behind Alexis Sánchez and Jesse Lingard, and Mourinho's side could argue that they were unfortunate not to be in front at the interval. Scott McTominay sent a shot inches wide after an error from Manuel Lanzini, Lingard had two swerving shots pushed away by Adrián, and West Ham were indebted to a brilliant piece of athleticism from their goalkeeper in the 23rd minute.
Sánchez, who scored a hat-trick for Arsenal on this ground last season, must have been licking his lips when Antonio Valencia found him with a cut-back from the right. He had time to pick his spot and he tried to bend a shot high to Adrián's right. The Spaniard responded with a sharp stop, however, and then he sprang back into position to turn Luke Shaw's fizzing low drive against the woodwork
It is two years to the day since West Ham said farewell to Upton Park with an emotional victory over United and with his team's Premier League status secured, there was an argument that this was an opportunity for David Moyes to let go of the handbrake.
Yet West Ham's pragmatic display had a sapping effect on the atmosphere and did little to further the Scot's case that he deserves a contract extension at the end of the season. "I thought the players showed a great attitude," Moyes said. "Sometimes when you get safe you can slip away with it but they were at it the whole night. It was a thoroughly deserved point."
At least Arnautovic gave it a go. The Austrian took on United's back three on his own at times and he deserved better after a powerful surge down the right only for João Mário to jab the cross wide from close range.
With Romelu Lukaku unavailable and Mourinho waiting until the 74th minute to bring on Marcus Rashford, United's attacks lacked a potent presence. Sánchez was persistent and he almost took advantage of indecision from Adrián early in the second half, however. Yet West Ham were relieved that Angelo Ogbonna raced back to head the Chilean's chip off the line. Declan Rice, another assured presence at the back, would also earn appreciative applause for a fine tackle on Sánchez.
West Ham's reluctance to throw caution to the wind was hard to justify, with Moyes waiting until the 66th minute to introduce Andy Carroll. Yet the temperature only rose when Pogba and Noble clashed. Both men were booked but Carroll could face punishment from the Football Association after appearing to lash out at Shaw. At least Noble and Pogba had cooled down sufficiently to share an embrace after the final whistle.
MATCH FACTS (Mail)
WEST HAM XI: Adrian 7.5; Rice 7, Ogbonna 7, Cresswell 6.5; Zabaleta 6, Kouyate 6.5, Noble 6, Masuaku 6 (Carroll 66); Mario 6, Lanzini 6; Arnautovic 6.5.
Subs not used: Hart, Evra, Cullen, Obiang, Fernandes, Hugill.
Bookings: Noble
Manager: David Moyes 6
MANCHESTER UNITED XI: De Gea 6; Lindelhof 6, Smalling 6, Jones 6; Valencia 6 (Bailly 90), McTominay 6.5, Herrea 7, Pogba 6.5; Lingard 7 (Rashford 85), Sanchez 6.5 (Young 90).
Subs not used: Romero, Blind, Mata, Martial.
Bookings: Pogba
Manager: Jose Mourinho 6
Referee: Jonathan Moss
Telegraph
Passions run high after Paul Pogba and Mark Noble go toe to toe as Man Utd secure second place
Sam Wallace, Chief Football Writer
Unable or unwilling to give one another a game, these two tired defensive teams did at least provide us all with a fight when Mark Noble briefly lost the plot and squared up to Paul Pogba, in a moment of aggravation as unexpected as a scrap in a quiet country pub.
Before then, two five-man defences had faced off in a game of little ambition involving a Jose Mourinho masterplan which involved expending the minimum energy for the return of a single point. That was the minimum the Manchester United manager said that he had come for to ensure that the last game of the season at Old Trafford could run smoothly with second place already secured.
It had been going to plan for Mourinho with precious little of note having happened when, with three minutes of the regulation 90 to go, Pogba fouled Cheikhou Kouyate, Noble fouled Pogba, Pogba reciprocated and within seconds it had escalated surprisingly. The West Ham captain was giving away around a foot in height when he went chest-to-chest with his opponent but it did not stop him grabbing the Frenchman's face, as if he was going to try to scale him rather than fight him.
It should have been a red card for the West Ham captain, and Pogba, for all the sneakiness of the foul that had preceded it, did well to keep his cool, perhaps with the FA Cup final a week on Saturday in mind. The referee, Jonathan Moss, instead took the easy route out and booked both of them and, at the final whistle, Noble went over to make peace with an expression of mild embarrassment.
There could yet be a Football Association charge for substitute Andy Carroll who came in the second wave and might even have thrown a punch at Luke Shaw, although he escaped any punishment on the night.
It had so nearly been one of those nights when nothing happens, and no-one seemed to care, when two teams were content to defend and the game ebbed away into moves that went nowhere.
When it came to the fight Mourinho was indifferent, saying that from what he had seen of the replays, "it looks like Paul and Noble are in love – hugs and kisses and changing shirts". All he cared about was the point to ensure second place and the careful husbanding of resources ahead of the Cup final against Chelsea that will do much to define his season.
It was for that reason he was making defensive substitutions in the last few minutes of a game, breaking up the rhythm of a match that barely had any rhythm in the first place. "Any team that goes to this kind match where you need something to get some objective, you fight for that," Mourinho said. "The best way to fight for the point was to try to win the match and be safe, which was what we tried.
"But when the game goes to 70, 75 minutes, you don't win, you don't lose, you do the job. You get the point. You finish second and you can face the game on Sunday with a different perspective. We deserved a point, we deserved second position. When it is not possible to be champions, second position is the best available which was what we got."
He will play Sergio Romero in goal against Watford and Michael Carrick will captain the team in the last game of his playing career before he joins the coaching staff at Old Trafford. Then it will be about the long run-in to the FA Cup final a week on Saturday which, after a season when they have trailed far behind Manchester City, will sound a different note.
It was not helped by the indifference with which the crowd regarded this final match of the season at the unloved stadium, where another mediocre Premier League campaign ends not so much with a whimper as a sigh. The away fans sang that it was the "worst f------ ground we've ever seen" and they got little dissent from the home fans, some of whom seemed even to be applauding them.
The final week sweep-up of all those games that should have happened at other times is often a painful exercise in who-cares, but this one seemed particularly poignant falling on the second anniversary of the last game at Upton Park. It was the same two teams that contested that epic goodbye that started with Jesse Lingard Snapchatting the attack on the away team bus and ended with a rattling good comeback and a 3-2 West Ham win that no-one was expecting.
David Moyes praised his players for their performances. "If we couldn't get three points than we were going to make sure we got one," he said – it was that kind of night. Moyes said he thought little of the fight itself. "It had never been that type of game," he said. "It came out of nowhere."
Marko Arnautovic did his best and was better when Carroll joined him in attack in the second half. The goalkeeper Adrian denied Alexis Sanchez and Lingard twice, also pushing Shaw's drive onto the post.
It was the fight that people will remember of this night, if they remember anything at all.
Mail
Burnley's Martin Hodge emerges as a candidate to become West Ham's head of recruitment after Tony Henry was sacked for making racist comments
Martin Hodge has emerged as a candidate to succeed Tony Henry at West Ham
Hodge as worked well as head of recruitment at Burnley alongside Sean Dyche
West Ham have been looking to replace Henry since he was sacked in February
Henry has publicly apologised for his comments regarding African footballers
By Simon Jones
Burnley's Martin Hodge has emerged as a candidate to succeed Tony Henry as West Ham's head of recruitment.
Former Everton and Sheffield Wednesday goalkeeper Hodge, 59, has a wealth of experience as a scout and was brought into Burnley by their former sporting director Frank McParland before taking over that role which was redefined as head of recruitment.
Hodge has since worked well with manager Sean Dyche to help find the players they have moulded into a top seven side.
Burnley's Martin Hodge has emerged as a candidate to succeed Tony Henry at West Ham
West Ham have been looking to replace Henry since he was suspended then sacked after Sportsmail revealed an email containing racist comments about potential African signings.
Henry has publicly apologised for his comments regarding African footballers and denied being racist.
But the former head of recruitment at West Ham committed the embarrassing mistake of trying to blame the Africa Cup of Nations for him not wanting to sign more players from the continent - when the tournament has been moved from mid-season to the summer from next year.
Henry - who has now been charged by the FA with misconduct for comments that 'included reference to ethnic origin and/or race and/or nationality and/or colour' - dared suggest he was referring to only one player at the club.
In the interview broadcast by Sky Sports News on Wednesday night, Henry went unchallenged when he tried to justify an email he sent to an agent during the January transfer window stating that the club did not want more African players.
'I just felt, as head of recruitment, I look ahead down the line and I thought in 12 months' time it's the African Nations Cup,' he told Sky.
'If we have four African players come the next African Nations Cup we're going to lose them in January and February, and we could struggle with that.'
The 2019 Africa Cup of Nations will take place in Cameroon between June 7 and June 30. The tournament used to be held every two years in January and February.
Henry did apologise. 'I'm sorry for what I've done, 100 per cent,' he said. 'For the first two weeks, honestly, I couldn't leave the house.
'I was so sorry for what I'd done because I know I shouldn't have done it, I know I shouldn't have said it. I hold my hands up. I was totally wrong. I shouldn't have said it.'
Telegraph
West Ham lead chase for Huddersfield Town's Aaron Mooy
Matt Hughes
Huddersfield Town will face a battle to keep Aaron Mooy as well as David Wagner this summer, with West Ham United leading the chase for the Australia midfielder.
Mooy signed a three-year contract when becoming Huddersfield's record signing in a £10 million move from Manchester City after the Yorkshire club's promotion last summer. He is likely to be offered an enhanced deal to stay.
The midfielder is Huddersfield's best-paid player on £32,000 a week, but West Ham would comfortably be able to double those wages.
The former Bolton Wanderers prospect would be a good signing for West Ham, who could do with a dynamic player like him in their midfield.
Sport Witness
From Spain: West Ham have held 'advanced talks' for new manager
On April 21st, we covered a claim from Chile about West Ham and Manuel Pellegrini.
La Cuarta, a Chilean newspaper, reported a source close to the former Manchester City manager, currently in charge of Hebei Fortune, had confirmed contact from West Ham.
Now there's another mention of the Hammers trying to appoint Pellegrini.
Spanish newspaper Marca say Sevilla are also keen on the manager.
It's explained the La Liga side wouldn't be able to get close to the figures Pellegrini is earning in China, but that may not matter because the Chilean wants a last project in Europe.
Sevilla's competition is presented as West Ham United, with it being claimed the club have held 'advanced talks' with the manager, tried to appoint him in the winter, and continue to be keen.
If true, it doesn't say a lot for the faith of the Hammers' board in current coach David Moyes.
Brought in as West Ham panicked over Premier League survival, Moyes has kept the club up but isn't the most exciting option going forward.
But then is Pellegrini? The Chilean press have a far different perception of the manager to many in England, and perhaps they have a point.
As newspapers such as La Cuarta and Le Tercera often point out, Pellegrini actually managed to take Manchester City further in Europe than Pep Guardiola has, whilst also winning the Premier League and two League Cups.
Evening Standard
David Moyes: I would like to stay at West Ham... but only if we can agree common goals
EXCLUSIVE COLUMN
David Moyes
We've done what we set out to do, keep this great football club in the Premier League but I won't be walking around the pitch at the London Stadium on Sunday celebrating avoiding relegation. I want to aim higher - much higher.
My short-term contract expires very soon. If we can agree common goals at the end of this season I would like to stay at West Ham as I do believe we are on the right road.
In football management, the first few months are often the toughest. Sometimes you need to straighten things out, take a hard line and people don't quite like it.
You are trying - quickly - to evolve the squad, to improve players, to make things better.
I think we've come through a big chunk of that process now.
I have to say I have really enjoyed this job. Everyone has made me welcome and in my eyes we've had very little negativity from within because we've always tried to keep things going.
We've tried to be honest and straightforward with the supporters and everyone around the club.
There were disciplinary issues which needed to be sorted and more will need to be ironed out given time.
People within the club were looking for those things to be sorted, as were the supporters who watched the team. Whether it was timekeeping, players wearing suits, making club appearances or something even more fundamental, they had to be addressed.
We tried to get into that as quickly as we could but the only real focus was to keep this club in the Premier League.
We said we are only here for a short time at the moment, so let's work hard and do the job as best we can.
One of the comments when we arrived was that the organisation needed improving. I was never going to criticise Slaven Bilic because he is a good man and a very good manager but I do remember saying to the players: "Don't be coming back to me and complaining that we're working you too hard on organisation."
The players responded well and it's my belief that they want structure, they want to be told what to do.
When we came last November, the team were in the bottom three so we didn't have a great deal of time.
My first match was away at Watford. We lost 2-0, it was a poor performance and I must admit I had expected more. It was a bigger challenge than I thought and we were a bit surprised at where the group was.
More importantly, though, there was an imbalance about the squad. So many of the squad wanted to play off the left side. Attempting a better balance to the team was one of our first priorities.
We were also carrying a lot of strikers — Andy Carroll, Chicharito, Andre Ayew and Diafra Sakho. It's not that easy to have that many front men because you can't play them all.
With Marko Arnautovic, I watched him play at Watford in that first game. We had told him that he needed to do the running but he ended up playing the game at right-back.
I just thought that, at the stage of his career where he is now, it didn't suit him. It's his blistering power and pace which we needed to utilise and he has certainly demonstrated that over the past months. He gives us something different. Andy and Chicharito have varying strengths but we needed another player who could do lots of jobs and help us get up the pitch.
Those were the main changes and they proved the catalyst for getting us up and running.
Despite that I felt before I came in that the squad was good enough to avoid relegation. If I hadn't felt that way, I wouldn't have taken the job.
I also thought that, if we needed to try and spend money in January, then the club would have that capacity.
I do believe, though, that the confidence we got from beating Chelsea and drawing with Arsenal, both at home, was important, because things hadn't been going all that well at the London Stadium up to then and the quicker we changed that and used our home in a positive way, the better.
The lowest point? The Burnley defeat, with all that went on, was one of them but the FA Cup defeat at Wigan was, for me, worse because I wanted to do well in the competition.
However, we went there with a depleted squad because of injuries and then lost Pedro Obiang for the season through injury and Arthur Masuaku, who collected a six-game ban which went on for almost two-and-a-half months.
We came through it and I want to thank everyone at the club and the supporters, for playing their part.
Tonight we have a tough job on our hands against Manchester United.
I would have preferred it if they were not coming off a defeat but I'm looking to pick up more points in these last two games and move further up the table.
The fee for this week's column is going to the British Red Cross. For details, go to redcross.org.uk