BBC
Juventus have offered Liverpool £44m plus Argentine forward Paulo Dybala, 25, for Egypt winger Mohamed Salah, 26. (Tuttosport, via Mail)
Arsenal are preparing to make a bid at the end of the campaign for 19-year-old Bayer Leverkusen playmaker Kai Havertz as a replacement for midfielder Mesut Ozil, 30. (Calciomercato, via ESPN)
Chelsea are confident they can buy Argentine striker Gonzalo Higuain, 31, for less than the 36m euro (£31.8m) fee agreed with Juventus if they decide to make his loan deal permanent. (ESPN)
Everton, Manchester United and Wolves are interested in Porto and Algeria winger Yacine Brahimi, 29, who is a free agent at the end of the season. (Correio da Manha - in Portuguese)
Newcastle United's English centre-back Jamaal Lascelles, 25, was a January transfer target for Manchester United before Jose Mourinho was sacked. (ESPN)
Tottenham are set to beat rivals Arsenal to sign AC Milan attacking midfielder Suso, 25. The former Liverpool man has a £35m price tag. (Mirror)
Chelsea are ready to pay 45m euros (£39.7m) to sign Benfica's Serb striker Luka Jovic, 21, who is on loan at Eintracht Frankfurt. (Bild - in German)
Manchester United want Spain goalkeeper David de Gea, 28, and England forward Marcus Rashford, 21, to sign new deals before the end of the season. (Goal)
In-form Tottenham forward Son Heung-min, 26, who signed a five-year contract in July, is set to be offered a second pay rise in 12 months in a new deal, taking his wages to £150,000-a-week. (Mail)
Former France and Paris St-Germain boss Laurent Blanc, 53, has hired a leading football agency to help find him a job in the Premier League. (Mirror)
Manchester City and Germany midfielder Ilkay Gundogan, 28, says he will likely let his contract run down but could then extend his deal at Etihad Stadium. (Bild, via Independent)
The sale of Marouane Fellaini, 31, to Shandong Luneng Taishan in January is helping Manchester United expand in the Chinese market. (Manchester Evening News)
Ajax centre-back Matthijs de Ligt, 19, wants to follow 21-year-old midfielder and fellow Netherlands international Frenkie de Jong to Barcelona, says team-mate Andre Onana. (Goal)
But Barcelona cannot meet De Ligt's £75m asking price this summer, increasing Manchester City's chances of signing him. (Mail)
Former Netherlands international Rene van der Gijp has urged De Ligt to join Holland team-mates Virgil van Dijk and Gini Wijnaldum at Liverpool to form the "best centre-back pairing in Europe". (Star)
Inter Milan have no intention of selling striker Mauro Icardi, despite stripping the 25-year-old Argentine of the captaincy. (Sky Sport, via FourFourTwo)
Manchester United's Chilean forward Alexis Sanchez, 30, could return to Arsenal to solve his recent struggles, says former Gunner Marc Overmars. (ADN Deportes - in Spanish)
Real Madrid goalkeeper Thibaut Courtois, 26, says he would relish the chance to play again at club level alongside 28-year-old forward Eden Hazard - his Belgium compatriot and former Chelsea team-mate. (VTM Nieuws, via FourFourTwo)
England manager Gareth Southgate wants to include West Ham defender Declan Rice, 20, in his next squad in March but could be prevented by Fifa's procedures for transferring his international status from the Republic of Ireland. (Sky Sports)
Former Chelsea and England centre-back John Terry advised Rice to change allegiance. (Sun)
Financier Amanda Staveley is still interested in purchasing a Premier League club despite several failed bids to buy Newcastle United. (Mirror)
Guardian Rumour Mill
Jacob Steinberg
Now that Tottenham no longer plan to spend half of their cash on an executive cheese room at the new White Hart Lane, they can make more room in their budget for football stuff. That means they can buy some new training bibs, take muddy kits to the launderette after every game, make sure that everyone has shin pads, get enough half-time oranges for the whole team and give Son Heung-min a new contract worth a whopping £150,000 a week. Hooray! Let the good times roll!
What's more, it even means Mauricio Pochettino might be allowed to sign a new player. Just the one, mind you, we don't want to go crazy. But still, giddy times for Pochettino, who has settled on rivalling Arsenal for Milan's Suso. The former Liverpool midfielder is going for £35m. The north London rivals plan to start the bidding at a cool £3.5m.
Elsewhere in Italy, Juventus are said to be plotting a raid for Liverpool's Mohamed Salah. They reckon £44m will do the job if they also chuck in Paulo Dybala. The Mill reckons there's more chance of Liverpool building a statue of Demba Ba outside Anfield than this one happening.
Staying with Juve, Chelsea reckon they make Gonzalo Higuaín's loan deal permanent for less than the £31.8m they agreed with the Italian giants. Failing that, they will turn their attention to Benfica's Luka Jovic, who could be theirs for £39.7m. Don't think too much about the maths.
While Wolves think about signing Raúl Jiménez on a permanent basis from Benfica and challenging Everton for Porto's Yacine Brahimi, Manchester City are feeling
chipper after learning that Barcelona cannot afford to pay £75m for Matthis De Ligt. That leaves City as the clear favourites to sign the Ajax centre-back. Another win for the little guy.
If a certain someone was still at Old Trafford, Manchester United's top target this summer would have been Newcastle's Jamaal Lascelles. But with Ole Gunnar Solskjær at the helm all the focus is on splurging £100m on Benfica wonderkid Joao Felix, which could give Alexis Sánchez even more time to spend with his dogs.
Guardian
Declan Rice's switch shows why dual nationalities should be respected
Eni Aluko
Many people believe it is about picking a country and sticking with it but when your heritage is dual it is tricky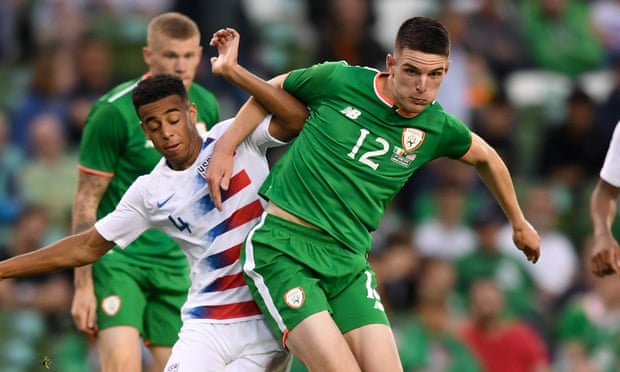 Declan Rice could do without the cynical response from some quarters to his decision to play for England, says Eni Aluko. Photograph: Eóin Noonan/Sportsfile via Getty Images
It was intriguing to see the mixed reaction to Declan Rice's decision to commit his international future to England over the Republic of Ireland. I don't think people fully appreciate how difficult it can be to have two nationalities in football and the kind of stigma that can come with it – especially for someone who is only 20. Rice broached the issue of respect for his dual heritage so eloquently and honestly in his public statement, which I am sure will bring him respect for his decision in return.
There will be a lot of Irish fans who were disappointed and offended by his decision but for me it is not necessarily a question of choosing an allegiance. There is an either/or culture in football that is polarising. Many believe it is about picking a side and sticking with it but when your heritage is essentially both it is difficult. For example, I'm both British and Nigerian. In the same way as someone such as Adam Lallana has family roots in Spain. If you dig a little deeper there are so many English players with Welsh or Scottish heritage. We're not just one-dimensional. Raheem Sterling is another example. He is proud of his Jamaican roots but plays for England and is proud of that too.
Rice has played three times for the Republic in friendlies but he grew up in England and is choosing with his head and his heart. He is well within his rights to make that choice under the regulations, even if some people might look at it cynically and say he has made a calculated decision to play for a country who usually do much better in tournaments. But let's say he was offered the chance to leave West Ham and play for a bigger club such as Manchester United, Manchester City or Liverpool, there would not be the same outcry. What is the difference?
Perhaps I'm just looking at an emotional topic of nationality too objectively. I know people see representing one's country as very different to playing for your club but it's not as if Rice has chosen to play for Brazil because they are the best team in the world. He is as English as he is Irish and has chosen to play for England. Does it make you more English because you are born in England? Are we going to start tracing bloodlines now to decide whether a player should or should not represent their country? I struggle to understand why many in football get so upset about dual nationality.
Rice is being open and essentially saying: "Well, actually I've got a bit of a choice to make here," as he would do if a bigger club came in for him. If he is choosing England for whatever reason, then it's a valid choice. It's part of him and would be if he chose Ireland over England. I understand the problem with countries who go looking for players with looser generational ties in an attempt to improve their team, as has happened in other sports. This is slightly bending the rules and cherry-picking talent from around the world. However, when there is a genuine affiliation to a country where you have been raised then it's a different matter.
This a tricky issue because ultimately it's a question of identity. Being of Nigerian heritage, I can understand Rice's situation and can relate to the battle between dual nationality both in life and in the context of football.
I didn't have that benefit of choice because I was called up to my first England squad when I was 14 and the Nigeria women's team did not really have the structure back then to select me. On the other hand, my brother, Sone Aluko, played for the Super Eagles even though he was born and raised in Birmingham.
It can be difficult for players who are perceived to have turned their backs on England, as Wilfried Zaha has found out after deciding to play for Ivory Coast. I remember Jack Grealish got a lot of abuse on social media and even from fellow professionals such as Jack Wilshere when he was weighing up the same choice as Rice. There is still this perception in football about whether people are "English through and through". Essentially there is not any such thing without going into a whole discussion on genetics and bloodlines of each player.
Grealish is from an Irish background but, like me, was raised in Birmingham. I believe, much like the maturity of Rice's statement, there needs to be a much more mature attitude in football towards players who have dual nationality and respect their choices as legitimate without the cynical perception that comes with it. Ultimately you can be both – Rice could have chosen to play for the Republic or he could have chosen to play for England and it's up to him which is best for his career after consulting his family, who I am sure have dual allegiance, too.
Whatever national anthem that individual chooses to sing, we have to respect that. In this case, the Republic are the ones who lose out but I'm sure Ireland will always remain a part of Declan Rice.
C&H
Fears grow midfielder's season is over
West Ham fear that Jack Wilshere's season is over as he battles against his ongoing ankle problem.
The former Gunner – signed on a £100k a week three year deal after looking to have recovered given his 30 odd appearances last season – remains a major doubt for upcoming matches.
And there is no timetable on his return sparking real fears that we have seen the last of him for the 2018/19 campaign.
His continuing absence is probably the one misjudgement made by Manuel Pellegrini in the summer window although he was probably swayed on the evidence of 38 games for the Gunners in 2017/18.
So far this season he has made just four appearances which by and large were entirely ineffective before undergoing surgery on the issue.
A senior source talking to CandH by e-mail revealed: "There's a real possibility he may be out for the season but there's no certainty. We keep our fingers crossed."
Hammers set to exercise midfielder's option
West Ham look set to trigger the one year option they hold on Samir Nasri despite the player's current injury problem.
The return of Manuel Lanzini was thought by some to have reduced the chances of that happening but Manuel Pellegrini is keen to ensure the French midfielder stays on board.
Lanzini will need plenty of action to get back to full fitness and the Hammers are determined to guard against any future injury problems in an area of the pitch where they have been light of options.
Nasri is currently suffering from a calf strain and missed the trip to Malaga. He is more likely to be available for the trip to Manchester City than the visit of Fulham next Friday evening.
Meanwhile Carlos Sanchez is making a recovery which could see him back in action next month as he recovers from a knee injury which has sidelined him for most of the season.