BBC
Leicester City are set to offer Celtic £6m to appoint Brendan Rodgers as manager after sacking Claude Puel on Sunday. (Sun)
Former Huddersfield boss David Wagner is also among the targets to take over at the King Power Stadium. (Huddersfield Examiner)
Ex-Everton and Manchester United manager David Moyes has admitted interest in the vacant Foxes post. (Bein Sports, via Liverpool Echo)
Leicester's English striker Jamie Vardy, 32, punched a door in anger following his side's 4-1 defeat by Crystal Palace on Saturday. (Mail)
Paris St-Germain president Nasser Al-Khelaifi insists that neither 27-year-old Brazil forward Neymar, linked with Real Madrid, or France striker Kylian Mbappe, 20, will be sold this year. (Marca)
Liverpool and Arsenal's efforts to sign PSG and France midfielder Adrien Rabiot, 23, appear to have been given a boost after Barcelona cooled their interest. (Mirror)
Bayern Munich president Uli Hoeness says a decision on the future of 27-year-old Colombia midfielder James Rodriguez, whose two-year loan from Real Madrid finishes at the end of the season, will be in the hands of manager Niko Kovac. (Goal)
Manchester United have been linked with a summer move for Sporting's Portuguese midfielder Bruno Fernandes, 24. (A Bola, via Manchester Evening News)
Wolves captain Conor Coady says he is doing all he can to persuade Mexico striker Raul Jimenez, 29, to make his loan deal at the club permanent. (Express and Star)
French side Lille are prepared to sell 23-year-old Ivory Coast winger Nicolas Pepe, who has been an Arsenal target, if the price is right. (Telefoot, via Football London)
Burnley's England-born forward Ashley Barnes could pledge his international future to Austria - the 29-year-old qualifies through his maternal grandmother. (Mail)
Former Chelsea and Manchester United boss Jose Mourinho believes the Blues' 28-year-old Belgium midfielder Eden Hazard would be a success at Real Madrid. (London Evening Standard)
Portuguese Mourinho, 56, plans to be back in management this summer. (ESPN)
Manchester United staff gave special instructions to the ball boys at Old Trafford to slow down in giving the ball back to Liverpool during Sunday's 0-0 draw. (Mail)
Guardian Rumour Mill
Barry Glendenning
What now for Kepa Arrizabalaga? While Maurizio Sarri and his goalkeeper have attempted to dress up the latter's refusal to leave the field of play when substituted in yesterday's Carabao Cup final as "a misunderstanding", there seems little doubt it was in fact a gross act of insubordination. While a similar refusal to follow orders in the army would earn a soldier up to five years in the stockade or a dishonourable discharge, such is the power of the petulant and expensive players in the Chelsea dressing-room that it is likely to be Sarri who will be drummed out of the club.
Whether this happens sooner rather than later remains to be seen, but the ramifications may spread as far as Leicester City. While Brendan Rodgers is the odds on favourite to replace Claude Puel following the Frenchman's inevitable dismissal, the famously ambitious Celtic boss may actually fancy his chances of getting his backside into the Big Chair at Stamford Bridge and decide to bide his time.
Everton hope to improve the quality of their set-piece defending by bringing Belgian right-back Thomas Meunier to Goodison Park from PSG.
Sporting midfielder Bruno Fernandes could be off to Manchester United in the summer if reports from Portugal are to be believed. Also a Liverpool target, the 24-year-old has 11 Primeira Liga goals to his name this season and may be moved on in the summer. The imminent arrival of Ajax midfielder Frenkie de Jong at Barcelona could spell the end of Ivan Rakitić's largely successful spell at the Camp Nou. The Croatian, who says he wants to stay, is likely to have no shortage of takers if he is put up for sale and United are understood to be interested. They will have to fight off interest from Inter, Paris Saint-Germain and Bayern Munich, among others.
The German side are also continuing to keep tabs on Atlético Madrid's French left-back Lucas Hernandez, who they tried unsuccessfully to sign in January. The future of James Rodríguez, on loan at Bayern from Real Madrid, remains up in the air after the German side's president Uli Hoeness said he will leave it up to his manager, Niko Kovac, to decide whether or not to make the switch permanent. Should he deem James surplus to requirements at the Allianz Arena, Arsenal may give the Colombian midfielder a new home.
Meanwhile at Real Madrid, Marco Asensio is likely to be bounced out of the Bernabéu come season's end and will join Bayern for a fee somewhere in the region of £100m. Having lost his place in the Real first team to local youngster Sergio Reguilon, Marcelo may decide to cut his losses and head to Juventus instead.
C&H
Former Irons loanee savages Harry Redknapp
There's dishing the dirt …and then there's really dishing the dirt which is precisely what former Hammer loanee Dani has decided to do with a certain Mr Harry Redknapp.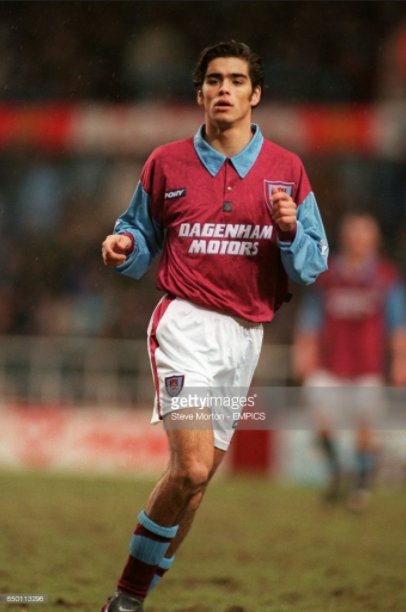 The former Sporting Lisbon player arrived on loan back in the 1996 season but claims the former Hammers boss wrecked his chances of playing in the Euros of that year.
Harry has long had a reputation as a ducker and diver in the transfer market before – perhaps appropriately becoming King of another jungle recently.
Dani managed nine games and two goals for the Irons before an alleged 'ruck' with Redknapp saw him disappear off the Irons scene.
He appears to have waited 22 years since leaving the east end to tell his story about the issues that he had under Redknapp's management and they aren't pretty in the telling.
The midfielder had arrived at Upton Park having represented Portugal at every level and completed 72 games for Ajax after leaving West Ham.
But there was no way back after attending a training camp in the south of Spain where he says the Irons squad spent the entire time drinking beer and playing golf.
He revealed to Tribuna Expresso.: "The manager, Harry Redknapp, had the nerve to tell me: 'Now I'm going to take you off the team until the end of the season, so your price goes down and then we buy you.'
"I asked him not to do that since I had the chance of going to the Euros and without playing it would be unlikely. His answer was: 'I don't care. I couldn't care less about the Euros and Portugal. I want to buy you so I can have you here next season, so you're not playing anymore.'
"I tried fleeing to Portugal, but my agent and my father convinced me to return.
Dani then alleges: "Redknapp didn't get along with me or with half of the players he managed – he has a terrible image. His son, Jamie Redknapp, is great, but he isn't.
"We didn't have a professional relationship anymore. He started saying I was a bad professional, that I smoked and other things.
"And then I misbehaved – angry at him for cutting my chances of going to the Euros as an 18-year-old. I'd go to practices just for the sake of being there, and wouldn't respond if he talked to me or demanded anything during reserve team matches. If I had to arrive late or to skip practice, I'd do it. I lost all respect I had for him."
Football London
Manuel Pellegrini and West Ham get double injury boost ahead of Manchester City trip
Latest West Ham news takes a look at the injury situation at Manchester City ahead of Wednesday night's game at the Etihad Stadium
Manchester City's Carabao Cup final win over Chelsea on Sunday afternoon has been overshadowed by the incident with Maurizio Sarri and Kepa Arrizabalaga, but there was also an injury boost for West Ham United.
The Irons are the visitors to the Etihad Stadium on Wednesday night as they look to build on the 3-1 win over Fulham last time out.
It's also Manuel Pellegrini's first return to the ground since his departure at the end of the 2015/2016 season and he's been handed a huge injury boost ahead of the game.
Somewhat lost in the mix of Kepa's refusal to be substituted in extra-time was the fact that Pep Guardiola had to make a couple of changes of his own throughout the game.
Aymeric Laporte didn't appear for the second half, while Fernandinho was taken off just before the start of extra-time and the City boss has confirmed both players will miss the game against the Irons.
"Being in four competitions is so demanding, so tough, we don't know where we're going to arrive," he said .
"Fernandinho and Laporte will be some weeks out."
With John Stones out of action, the reigning champions of England are short of central defensive options and that could result in captain Vincent Kompany playing his second game in the space of three days.
Meanwhile, City's dip in form over the festive period coincided with Fernandinho's spell out of the team.