BBC
Real Madrid boss Zinedine Zidane says the future of 29-year-old Wales forward Gareth Bale, who has been linked with Manchester United and a return to Tottenham, will be decided at the end of the season. (Talksport)
Manchester United could ask for Bale or Germany midfielder Toni Kroos, 29, as part of any deal which takes 26-year-old France midfielder Paul Pogba to Real.(AS, via Express)
Chelsea forward Eden Hazard's switch to Real Madrid is dependent on Zidane sanctioning the move for the 28-year-old Belgium international. (Marca)
Jan Siewert's future as manager of Huddersfield Town is in doubt after their relegation from the Premier League because of the collapse of his relationship with the club's senior players. (Times - subscription required)
Leicester City are considering a £40m bid to make the loan move of Monaco's Belgium international midfielder Youri Tielemans, 21, permanent. (Mail)
Manchester United boss Ole Gunnar Solskjaer is keen to make a £35m bid for Crystal Palace's English full-back Aaron Wan-Bissaka, 21. (Mail)
Barcelona have contacted Juan Mata's father and agent about a possible move for United's 30-year-old Spanish midfielder, whose deal expires in the summer. (Sun)
Brazil left-back Marcelo, 30, has changed his mind and now wants to stay at Real Madrid following the return of Zidane as manager of the Spanish giants. (AS)
Manchester United are refusing to agree to Spanish midfielder Ander Herrera's £200,000-a-week wage demands. The 29-year-old is out of contract at the end of the season and has been approached by French champions Paris St-Germain. (Mirror)
Everton boss Marco Silva hopes the club can seize the "very, very good opportunity" and sign 25-year-old on-loan Barcelona and Portugal midfielder Andre Gomes - who is also a target for Inter Milan - on a permanent deal. (Liverpool Echo)
Meanwhile, the Toffees' Republic of Ireland defender Seamus Coleman, 30, wants the club to spend big in the summer if they make it back into Europe. (Independent)
Former West Ham boss Harry Redknapp would like to see their English midfielder and captain Mark Noble, 31, move into coaching after he finishes playing and one day manage the club. (Star)
Arsenal will consider giving injured England forward Danny Welbeck a new contract, with the 28-year-old on course to return to training before the season's end. (Independent)
Former Inter and Manchester United midfielder Juan Sebastian Veron, who played at Tottenham's new stadium in the legends match at the weekend, believes Spurs will be able to attract more top players because of their new home. (Mirror)
Darren Moore has admitted he was surprised by his dismissal as West Brom manager. (Express and Star)
Manchester City manager Pep Guardiola says his team need to play the rest of their matches like a machine if they are to win the quadruple this season. (Telegraph)
Newcastle United manager Rafael Benitez has defended Paraguay playmaker Miguel Almiron, with the 25-year-old having failed to score in six outings for the Tyneside club. (Times - subscription required)
Guardian Rumour Mill
Barry Glendenning
Zinedine Zidane is not a man prone to particularly interesting public utterances or revelations, but that hasn't stopped assorted folk pouncing on some typically anodyne comments from the Real Madrid manager in a bid to find some hidden meaning. Speaking about Gareth Bale, a player with whom he does not seem to enjoy a particularly good working relationship, Zidane stressed the winger's importance to Real Madrid as they sleepwalk through their final 10 games of a season to forget, but was non-committal about the Welshman's future. "Nobody can take away what he has done," said Zizou. "We know he can bring a lot to the team and we will count on him. We are going to play these 10 games and then we will see. That does not mean that, afterwards, there will be changes."
Reports from Spain reiterate persistent rumours that Manchester United are interested in Bale and could insist on getting him and Toni Kroos as part of any deal that involves Paul Pogba going the other way. "He has always said that, after Manchester, Madrid has always interested him," said Zizou, shortly after stressing that Pogba is not his player. "So when his experience at Manchester ends, why not come here to Madrid?" Very subtle.
Whatever about Pogba, Juan Mata's time at Old Trafford looks to be drawing to a close. The likeable Spaniard's contract is due to expire come season's end and it seems Mata could move to Barcelona. The La Liga leaders have apparently approached his dad – who doubles as the player's "people" – with a view to taking him to the Camp Nou on a free transfer this summer. In other news pertaining to Manchester United, Paris Saint-Germain may try to turn the head of goalkeeper David de Gea, while Ole Gunnar Solskjær will move heaven, earth and a small part of south-west London to bring Crystal Palace full-back Aaron Wan-Bissaka to Old Trafford.
Everton boss Marco Silva has dropped a sledgehammer subtle hint to his employers regarding the future of loanee André Gomes, who he would quite like to sign from Barcelona on a permanent deal. "Let's see what we can do," he said, shortly after lavishing praise on his compatriot. "You know my opinion, he is really important for us but, in the end, it will be business and as you know, it is not my job."
In the section of this Rumour Mill some cynics may think is an April Fool's joke but actually isn't, Atlético Madrid would like to sign full-back Ben Chilwell from Leicester City. For their part, the Foxes are reported to be in talks with Monaco about making Youri Tielemans' loan move to the King Power Stadium more permanent.
The reign of Jan Siewert at Huddersfield Town could come to an end before it really got going, if a report in the Times that the German has fallen out with several senior players turns out to be true. Huddersfield's relegation to the Championship was confirmed by their defeat at the hands of Crystal Palace on Saturday.
And finally – tee-hee … oho-ho-ho … wink-wink … nudge-nudge – Chelsea will offer to replay the final 10 minutes of Sunday's victory over Cardiff City, following the glaring error from match officials that Neil Warnock feels cost his side the game. César Azpilicueta was a yard offside when he headed a Chelsea equaliser six minutes from time, before Ruben Loftus-Cheek popped up in added time to grab a late winner. Chelsea will submit their application that the end of the game be replayed – with the score still 1-0 to Cardiff – to the Premier League, who will consider their proposal and make a ruling on the matter before stumps at FA HQ later on Monday.
C&H
West Ham to bring Hammerettes back (Nothing to do with April 1st of course)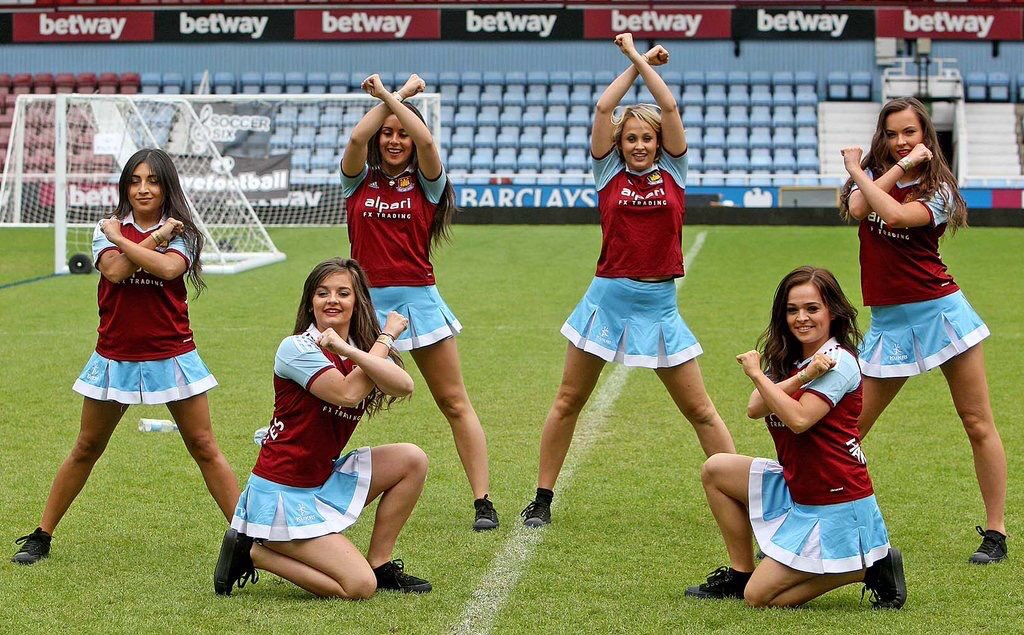 West Ham has decided to bring back the Hammerettes dance troop at half time to replace much crictised 'Beat the BATAK'.
The dance troop were a regular and popular half time fixture at the Boleyn Ground with the cheerleaders dressed in Claret and Blue outfits complete with pom-poms.
The Hammerettes made their first-ever appearance for West Ham in January 1970 against Manchester United. After a popular debut performance, the Hammerettes became a regular feature until they disappeared in 2007. They were briefly brought back in 2010 but promptly left Upton Park again shortly afterwards.
Under the Equality Act the Hammerettes the dance troop must be open to applications from boys as well as girls so we could well see the first male Hammerette dance for us at the London Stadium
The Hammerettes will also feature on a new Netflix documentary that will follow their exploits as part of a new reality show.
4th Official
West Ham United Looking To Make a Move For This Brazilian Sensation
According to Calciomercato.it, West Ham United are ready to make a move for Brazilian forward Everton Soares in the next summer transfer window. The player is one of the newest entrants into the Brazilian national team, with three appearances in total for the Selecaos so far.
The player has been one of the rising stars of Brazilian football and has earned a number of rave reviews from the experts. He currently plies his trade for the Brazilian club Gremio and plays as a left winger predominantly.
West Ham United have done well to make a strong comeback from the disastrous start to their campaign in the Premier League this season. One of the major concerns this season for the Hammers have been the unavailability of a number of key players due to injuries, which has affected the team's performance to a reasonable extent.
Manuel Pellegrini should be well aware of the fact that he would need a few new players to increase the squad depth for the next season.
Felipe Anderson has had a decent first season in the role of the wide attacker, and the Hammers don't have a good enough backup for him if he picks up an unfortunate injury. This is where Everton comes into play.
The 23-year-old has been an influential figure in the Gremio lineup and has done well as the wide attacker. His classy footwork and darting runs down the left flank can be deemed dangerous enough for any top class defence and Pellegrini could make good use of him if the Hammers can land the player in the next summer.
The Hammers have not been able to find enough inspiration in their attack this season, with the likes of Javier "Chicharito" Hernandez and Lucas Perez not being able to find the back of the net on a consistent basis. The talismanic striker Marko Arnautovic has done the bulk of the scoring and would be happy to see someone sharing the responsibility in the future.
Everton could come into the side as a backup for both Arnautovic as well as Anderson, i.e., as a striker as well as a winger. However, his inexperience of playing at the highest level in English football might be a detriment for his inclusion in the West Ham side next summer. Now it is to be seen whether Pellegrini chooses to take the risk of securing Everton's signature or refrains from doing so. In our opinion, he should go for it.