OS
West Ham United complete loan signing of Czech midfielder Tomáš Souček
Tomas Souček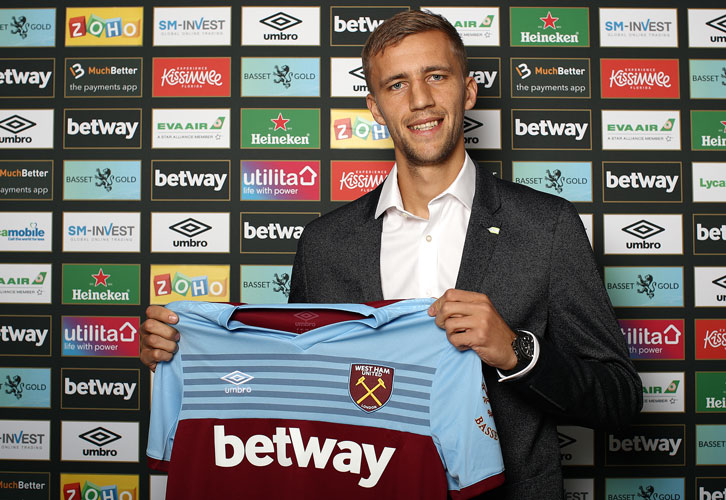 West Ham United is pleased to confirm the arrival of Czech Republic international Tomáš Souček from Slavia Prague.
The 24-year-old signs on an initial loan deal until the end of the 2019/20 season, with an option to make the transfer permanent in the summer.
Souček, who has won 25 full caps for his country, is a two-time Czech title winner and has built an impressive reputation as an energetic midfielder with both defensive and attacking qualities, and a strong physical presence thanks to his 6ft 4ins frame.
Manager David Moyes said: "We are delighted to welcome Tomáš to West Ham United. I think that he gives us a lot of different qualities, but most importantly he fits the profile of the player we want to bring to the Club. He is young and hungry but with an established pedigree and proven talent.
"He was captain of Slavia Prague, he's played as a defensive midfielder but he's scored a lot of goals as an attacking midfielder as well. At the moment he ticks a lot of boxes. We need to give him the opportunity and time to settle in but we are confident he will prove to be a strong addition to the squad."
Born in the central Czech town of Havlíčkův Brod, Souček came through the ranks at Slavia Prague, and broke into their first team in 2015 following a loan spell at Viktoria Žižkov.
He soon became a mainstay of the Slavia team, playing 29 of their 30 Czech First League matches in the 2015/16 campaign. The next season brought a first league title and a debut senior cap for the Czech Republic, in a November 2016 friendly against Denmark.
His rise to prominence accelerated in the 2018/19 campaign, when a remarkable 18 goals from midfield helped fire Slavia to the Czech double and saw him named the Czech First League Player of the Year.
Souček's form has continued in much the same vein this term, with his 12 goals – including two in the UEFA Champions League against Inter Milan and Borussia Dortmund – coming in 26 appearances.
West Ham United would like to welcome Tomáš and his family to east London and wish him every success for his career in Claret and Blue.